Najma
Forbidden Kiss
Shanachie 64063
This album celebrates the ingenious "king of Hindi soundtracks", S. D. Burman. When I was in Vienna with Church of Betty (performing the songs that eventually became In Search of Spiritual Junkfood), we met Najma Akhtar, the North Indian/British pop personage. Chris suggested a collaboration, and you see here the result.
I did play drum set on the record, but my chief contribution is as percussion arranger and conductor. That year at music school finally payed off. The strings and horns and stuff were arranged by Brian Woodbury.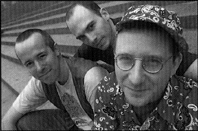 Out of all the records I've made, my father likes this one best. Make of that what you will.